Cut and food
The day started out pretty slow, Steve brought me to his neighborhood salon so I could get a haircut (was overdue for one). While I didn't like the way the lady styled my hair (think gasoo with the back all spiked out) I appreciated the way she used this knife-like tool to thin out the sides, I always have issue with my hair sticking straight out and my barber at most uses the special scissors to cut out chunks. Too bad my barber doesn't have the knife-like tool. Following a quick shower, we headed out to pick up Chewy and Jay from the local metro stop and ended up sticking around in Gangnam to eat Han Chong Shik with Chewy, Jay and Tena. Pretty sweet meal, the food never stopped coming.
Leeum Samsung Museum of Art (THUMBS UP)
At midday, we found ourselves at the
Leeum Samsung Museum of Art
in Itaewon. One of the best museums I visited in Asia. It was also one of the first times I rode a car elevator (I know, behind in the times). The museum comprises of three separate buildings designed by three well-known architects. Museum 1, designed by Mario Botta, houses traditional Korean art such as the celadon and porcelain pottery, Buddhist paintings, historic bronze sculptures and jewelry. The exterior is hung with terra cotta tiles, according to Mario Botta, the material was chosen because both the porcelain artifacts within and the terra cotta tiles on the exterior come from earth and fire. The spiral stairwell with the huge skylight and rectangular openings was also sweet, but they should have placed some art there. Waste of space.
While I'm not a big fan of ancient artifacts, I really appreciated the curator's taste and discipline in not throwing up every single piece they had. The amount of pieces on display were fewer than other museums, but each piece was displayed with care and had 'presence'. One of the annoying things though was that none of the pieces had any plaques giving you the name or details. You had to rely on the audio guide which in itself was very cool, but to avoid plastering bilingual plaques on every piece, they just kept it off altogether. Bad move, it was killing me standing in front of each piece listening to the entire audio clip. Unlike visual plaques, you can't scan the audio clips easily.
Designed by recent Pritzker Prize winner
Jean Nouvel
, Museum 2 houses modern art inside a loose arrangement of rusted steel and glass 'exhibition boxes'. The intersection of the boxes provide for many interesting exhibition spaces but the curator was not as skilled here. For example, there was one intersection which was large enough to hold the Giacometti sculpture they had by the restrooms, the great thing about the space was that the surrounding 'box' forms created a small opening which made the space very cozy and inward looking. Perfect for an existentialist sculpture like Grande Femme no? Instead the space was left empty. Elsewhere, the staircase connecting the three floors had a very cool detail in its seemless back-lit handrails.
As for the pieces aside from the big names, Warhol, de Kooning, Rothko I really liked
Yves Klein's "La Grande Bataille"
. From what I remember, I think he had some Judo practitioners dip themselves in blue paint and then roll with each other on a huge canvas. The resulting piece is abstract and depending on how imaginative you are, there is a lot to take away from it. Wish there was a larger version online somewhere, the tiny JPEG doesn't do it justice. Damien Hirst's "Dance of Death," a huge pill cabinet, Song Young-soo's Standing Face to Face, Kim Tschang-yeul's Water Drops and Suh Se-ok's Dancers 1 were also interesting.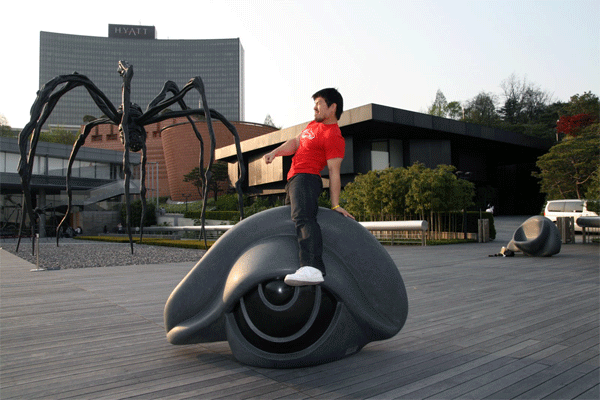 The last building, the Samsung Child Education and Culture Center was designed by Rem Koolhaas. The three level structure constructed with concrete, glass and wood is connected by spaceship-like escalators. The temporary exhibition there didn't yield many interesting pieces, there was a piece by Do Ho Suh though. The outdoor sculpture garden by Koolhaas was home to not one, but two Maman sculptures by Louise Bourgeois. It was here where we took most of our photos including the ones that made up this
animated GIF
of me riding the Eye Bench by Louis Bourgeois.
Dinner then back to Apgujeong
After the museum closed, we all went to the main street in Itaewon for a very expensive Western dinner. Cunning joined us for dinner and accompanied us to Apgujeong for some drinks where Jay's girlfriend and crew joined us, Cabbie also joined us here along with Scarecrow from UGA. I'm glad I called it a night early. The guys ended up staying up all night drinking, not my scene. On the way home, I did get to stop by the Han River which was very nice. Not crowded at all.
Additional Photos:
Additional photos of South Korea