At last, the fabled city. We went to bed the previous night with the rain pitter-pattering against the hotel windows. The morning was no better, we went up to a covered rooftop to have a meager breakfast, no one was in much of a mood to eat anyway with the Sun yet to rise and the rain drowning out everything. I cursed the skies for raining on us on the very last day of our trip.
Our walk to the bus stop was interesting, heavily hooded individuals in ponchos emerging from various hotels and other residential areas, merging onto the main road and walking in unison to the buses waiting patiently by the train tracks. I thought of the Hogwarts Express with all the cloaked kids congregating at Platform 9 3/4. If only I had magical powers... I wouldn't mind being called a muggle.
I think if the weather had been better, I would have been more impressed with the ruins. Because so much of it was shrouded in fog and mist, it took a while for all of it to reveal itself to me which detracted from its initial impact. In addition, we had been accustomed to some great visuals during the trip, if I had gone straight to Machu Picchu and skipped the trek, I'm sure I would have been more impressed.
For half the morning Enty took us on a tour around the ruins explaining what each sector was for, how the Incans may have lived during their time and pointed out to us that the city was never finished. A rock storage area located near the middle of the site had many huge uncut boulders lounging lazily about, never to realize its full potential.
By the time noon hit, much of the clouds had dissipated and along with it, my initial bitterness towards the heavens. In its place, a huge and clear double stack rainbow appeared. We had a great time posing in front of one of the most clear and largest rainbows I've ever seen. During all the times Enty visited Machu Picchu as a tour guide
I bet he never had a group use the rainbow so creatively (Enty probably hits up the ruins 50 times a year). Carebears, fountain of rainbow... what else could we have done. Lynn/Michelle/Deadweight also received her final nickname at this time, 'Asscrack'. I'll leave it to her to tell the origins of that nickname. There were also two llamas planted by the government at Machu Picchu. Elmo made full use of them as props for his own version of Animal Planet, complete with Australian voice-over.
We were lucky enough to obtain five of the 400 passes to Huayna Picchu, the mountain rising above Machu Picchu. However we had to endure an hour and a half long wait to get past the gates which forced us into a scramble to the top and back down in order for us to catch the 2pm bus back to Aguas Calientes. While we had our fair share of semi-dangerous moments on the trek, the hike up Huayna Picchu had some of the narrowest stairs / paths I ever came across. It didn't help that everything was slippery from the rain. We made full use of the cables bolted into the side of the mountain at strategic locations but with people coming down while we went up, it led to some interesting passing. Pressed for time we never made it all the way to the top but we were close. Our estimate was that we were probably 5-10 minutes from the top but we had to force ourselves to just take the photos where we were and scramble back to the bus.
On the bus ride back down to Aguas Calientes, we saw a kid dressed in traditional robes over and over at every other bend in the road. I'm not sure what the full story is, but apparently him and a bunch of his classmates do it to make some money. We gave him a few soles and was very impressed with the speed at which he made it down the mountain. Some of us thought that he had twins who took over at every other bend... when we first saw him, we didn't know what he was up to, he had a demonic look in his eye so if you ever hear us refer to a demon child at Machu Picchu, he's the one we are talking about.
Back at the restaurant where we ate dinner, we ate our final meal with Enty then proceeded back to the bus stop we got off of. This time we boarded a train back towards Cuzco. For some reason we don't get off at Cuzco (must be a different line). Instead we disembarked at another town and then road a couple of hours by van back to Cuzco. It was a nice ride and gave us a chance to see other parts of Peru we didn't get to witness while on the trek.
Arriving at Loki Hostel soon after sunset, everyone showered up and packed for the next day's flight to Buenos Aires. It was Chief's birthday but we never made it out to the bar where she was celebrating at since we were all busy packing. The next day I spent a few hours roaming portions of Cuzco I hadn't seen yet, the rest of the crew left early in the morning. I got to know Lima's airport quite well during my 8 hour layover. Thankfully I had the last Harry Potter book with me to keep me company.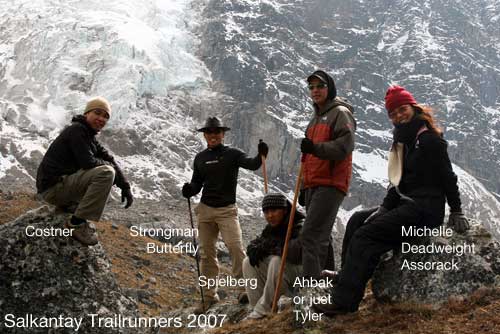 A final group parting shot of the Trailrunners during an earlier part of the trek (with everyone's nicknames). I'm very thankful for their company and am glad we experienced it together. Don't think I could have had a better time...
Photo Gallery:
Machu Picchu
by Kevin Boon aka
Costner