20070823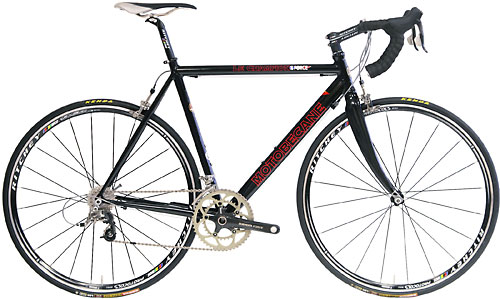 (Photo from BikesDirect, my stem is already flipped =P)
Purchased a new bike, bibs, jersey, and helmet earlier in the summer but haven't been cycling as much as I did last season. It got somewhat boring taking the same rides all the time but with all the eating I've done in Buenos Aires and Bariloche, I definitely need to get some time on the bike when I get home. Also found a few other cycling nuts on the Seadogs (already rode once with Kwonie, kicked my ass) so I have some people to ride with now.
When I initially considered purchasing a new bike, I started researching gruppos first since they pretty much define every bike. With cars it's the engine, but in cycling it's the drive train since your legs are the engine. The two titans in this area are Shimano (Japan) and Campagnolo (Italy).
SRAM
is a newcomer based in America. Though they are established in the mountain bike industry, they are relatively new to road cycling. At the time I was conducting my research they only offered two lines, Rival and Force. I'm a big fan of competition so I was drawn to the
SRAM Force Gruppo
, the issue is that there are few bikes from the major manufacturers that feature SRAM components. Since I'm relatively new to cycling I haven't fallen into either of the Shimano or Campagnolo camps which made myself more open to SRAM's 'Double Tap' system.
With the gruppo chosen and the lack of Force equipped bicycles from the major manufacturers I considered building my own bike before coming across the
Motobecan Le Champion Force
from
BikesDirect
. I really wanted a carbon fiber frame (haven't been a fan of aluminum frames since my Mongoose Solution BMX bike, landing jumps on that stiff bike wasn't fun) but figured the carbon fiber fork would absorb most of the road vibrations. Besides I could just swap in another frame when I had sufficient time to conduct research (almost jumped in on the Pedal Force group buy). The current frame is a rebadged 2005 Fuji Team SL, a bit long for me but nothing I'm not used to, the
Lemond Poprad
was also a bit long for me. The price was below what I would have paid for the individual components and it still left enough room in the budget for a new frame and saddle. I must've bid on over 15 Specialized Toupe 143 saddles on eBay but haven't won any of the auctions. Trying extremely hard not to pay over $100 for one but may have to break the bank if I don't win an auction before the MS Bike Tour. Can't imagine riding for more than 50 miles on my current saddle.
Anyway I've been loving the bike though I tend to mis-shift at times and throw the chain off the front chain rings. There have also been other minor issues identified in the forums but I'm too much of a novice to notice. Naturally after I plunked down the cash for the bike, SRAM recently
announced a new gruppo slotting in above the Force called
Red
. All the components look amazing and are light, but my favorite piece is the new cassette. Though it's made out of mundane steel, the craftsmanship is impressive. Aside from the first and last cog, the entire set is machined out of one piece of steel. I want to purchase one just to put on display!
Shimano and Campy are also coming out with some fancy gear, both have been working on their electric shift systems (
Shimano
,
Campy
). Not sure what the benefits are with electric shift systems, any battery would definitely outweigh the benefits of losing any cables. Maybe it's like the paddle shifters employed by F1 teams. Having the machine shift for you is much faster and exact than doing it manually... think we still have a few seasons before they make it into production.
This season I also started wearing a helmet regularly, I've gotten quite comfortable with my snowboarding helmet and figured if I fell like I did while snowboarding when on my bike, I wouldn't be getting back up. Worth the money and hassle of donning the
Giro Atmos
every time I go riding. Naturally right after I purchased it, Giro announced it's replacement, the
Ionos
. Happens every time... the
Livestrong
foundation also sells it's own version of the Atmos, didn't think too much about the entire black and yellow set-up until I saw the
photos of Lance and Edwards
on some charity ride. The color combo looks pretty badass, looks like Edwards and his entourage of Secret Service riders.
While all my friends seem to be taking up golf,
cycling
is fast becoming a sport where networking and business can be conducted. Will snowboarding be next? Am I ahead of the curve? Who's interested in riding in the MS Bike Tour this year? It's an easy ride (30 miles) and you'll get to ride in traffic free roads (FDR, Lincoln Tunnel for example). Consider joining the
Credit Suisse team
! We are usually the largest team so we get our own private area. Lots of benefits! Use code
tcweek07
to get the discount registration fee through Saturday! Jake, visit NYC during the week of October 14th so you can ride, we can shoot for the 100 miles! Alternatively if you would like to donate, please click
here
!