20051204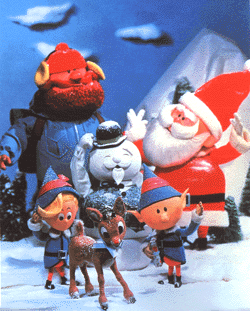 Some people got together and decided to produce a holiday edition of our beloved
w00t!
magazine. I'm really excited about it... but first I have to get some other small projects out of the way. Anyway, though I'm just charged with the graphics portion of the magazine, I took a stab at one of the story ideas (which doesn't have anything to do with SASI really). It sounded so much better in my mind during my morning shower and subway commute. Can anyone (ELMO) please make this a good read?
And while we are talking about Rudolph, how about a
look behind the scenes
?

Rudolph's fall from grace

Rudolph's ascension to lead the ranks of Santa's reindeer has been widely documented in toys, picture books and straight-to-videos among other licensed products. Every holiday season, children and adults are inundated with the legend of Rudolph. What hasn't been given much spotlight has been his struggle to remain at the top all these years, especially the last decade where we saw technology take a giant leap forward.

In the mid 90's when Santa brought in [NAME] as COO, and [NAME] as CTO, and created an IT department, the Elves' union was stunned. With more resources being poured into automatons and management, surely the Elves' would be let go in no time. However the union was pleased that Santa had no plans to let anyone go. The Elves' creativity was irreplaceable. What the additional management and IT department did do was to streamline production and take over the menial tasks, freeing the Elves for more rewarding work.

Regardless, with all the new technology being implemented something had to go and eventually, Rudolph fell by the wayside. When asked about Rudolph's current role in the herd, Santa stated coldly, "Rudolph should have seen this coming. When he started out, he was a sweet kid, hard worker and all. But as the years went by, he developed an ego to match that celebrity status. He didn't answer to anyone and caused more problems with the herd than T.O. did with the Eagles and the NFL. Besides he was somewhat lazy, relying on his nose to stay in the herd while the rest of the reindeer did all the grunt work."

[NAME], the current CTO added, "Rudolph should have gotten his act together, if he had, perhaps he would still be at the front of the herd even if it is just for a symbolic, figurative role. How could he not see this coming? With the sled continually upgraded, using halogen spotlights, radars, lasers, and GPS, hell we could fly in the dark if we wanted. Especially with the annoying NORAD [http://www.noradsanta.org/] on our tail every year."

Chief Elf, [NAME], also let it slip that IAMS, the pet food maker has approached the reindeer caretakers with the idea of buying Rudolph from Santa. What IAMS has planned for the trouble maker is unknown but it is widely speculated that a limited production of Rudolph's deer meat could sell very well and boost IAMS' revenue this quarter.