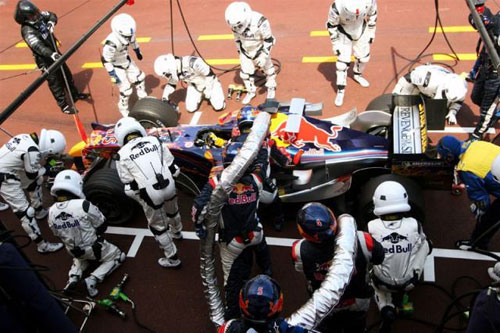 Woke up extra early today to catch the sixth stage of this season's
Formula 1
campaign. I haven't really watched any of the previous races in their entirety, but thanks goes out to Playskool for reminding me.
The race wasn't too boring, some action in the beginning and the last 10 or so laps were pretty insane with everyone trying to pass Alonso, who dropped from second place to fourth because he didn't pit and was running on some pretty bald tires. Both Williams-BMW drivers managed to get by him. The
Sauber Petronas
team, sponsored by Credit Suisse placed 9th and 11th respectively.
Anyway, the most interesting coverage as always was in the pit. The
Red Bull
team had a tie in with Star Wars so members of their pit crew were dressed up as Stormtroopers. Very cool. Though the force was obviously not with them because they were unable to finish the race.