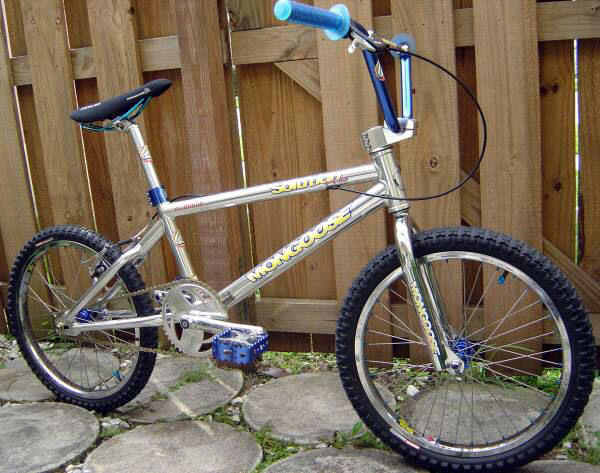 Contrary to popular belief, my first love was not computers. Whereas the computer, coupled with internet access gives me a sense of freedom that transcends physical barriers, my first and only BMX bicycle allowed me to explore within a physical space. Freedom but with barriers: as long as my legs could pedal, that was as far as I could go.
My father took me to
Cyclecraft
when I was in 8th grade after my friends, namely
Moon
, sparked my interest in
BMX
. After much deliberation I picked up a Mongoose Solution Pro and the GT Mach One for my brother.
And so I spent the next few years of my life riding that bike. In the morning I road that bike to school, after practice, I rode it back home. During the summers I rode to the mall, neighboring towns and went dirt jumping at the Domino's track. I was on that bike literally for most of my waking hours. It was an amazing time, I never knew my surroundings and a piece of equipment so well. I wiped that bike down and oiled it everytime water touched it, I adjusted the brakes and handlebars constantly (especially after jumps, the damn two-piece handlebars never stayed in place), I even changed the tires and tubes more times than I care to remember. Sadly I've spent more time with that bike than I have with a significant other and worse, I'm not afraid to admit it.
On a fateful day in the spring of my junior year, that bike was stolen from me. Traumatizing... even with all its faults: the unforgiving aluminum frame, the torn seat, lopsided handlebars, and dented rear rim from my first attempt at a bronco I still missed it dearly. It had gone through the same trials and tribulations I had endured for four years.
eBay
and a seller named
Tom
came to the rescue on 03.14.04. After failing to secure the bike after two week-long
auctions
I was about to call it quits when Tom, sensing my love for this bike took a hit and made me an offer I couldn't refuse. In case he ever stops by this journal, I just wanted to thank him. Though there was no reason at all for him to offer any aid, he took a personal financial hit and offered me something more than just a bike. With it comes memories of four of the best years of my life so far.
Though the bike is different in many aspects (probably a year newer than mine) including the chromed aluminum frame, blue accent on the nipples, hubs, pedal traps, handle bars, seat clamp and seat rails, I'm already falling in love with it. =D Thanks Tom. I'll be sure to post photos when it arrives!